Premiere resource to locate the best packaging shipping freight services on the island of Oahu - Honolulu, Hawaii (808) 739-9797
<!PATH>
Glossary: Shipping Terms Explained

<!******* 1 TAB NAVIGATION START******>
Back to the top
<!#450IMAGESTART>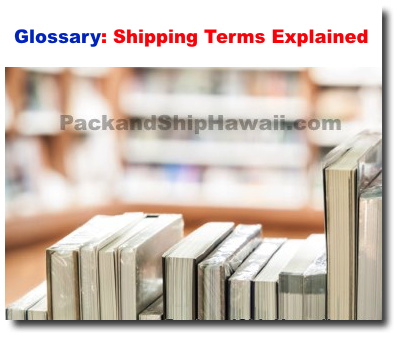 <!#450IMAGEEND>
<!#43START>
Glossary: Shipping Terms Explained

At Pack and Ship Hawaii, we'll help make this shipping process easy and worry for you. To help you understand some of our terms and phrases, here are some of the common shipping terms explained.
Abatement - Discount for damage or overcharge in the payment of a bill
Agent - A person authorized to transact business for another person or company. Such as brokers, commission merchants, resident buyers, sales agents, manufacturer's representatives.
Bill of Lading (B/L) - A document that establishes the terms of a contract between a shipper and a transportation company.
Bill of Sale - Confirms the transfer of ownership of certain goods to another person in return for money.
Cargo - Freight loaded into a ship
Carrier - Any person or entity who undertakes to perform or to procure the performance of carriage by rail, road, sea, air, inland waterway or by a combination of those.
Consignee - A person or company to whom commodities are shipped.
Container - A truck trailer body that can be detached from the chassis for loading into a vessel, a rail car or stacked in a container depot. Containers may be ventilated, insulated, refrigerated, at rack, vehicle rack, open top, bulk liquid or equipped with interior devices. A container may be 20 feet, 40 feet, 45 feet, 48 feet or 53 feet in length, 8'0" or 8'6" in width, and 8'6" or 9'6" in height.
Demurrage - A penalty charge against shippers or consignees for delaying the carrier's equipment or vessel beyond the allowed free time. The free time and demurrage charges are set forth in the charter party or freight tariff.

D.O.T. - U.S. Department of Transportation. The executive branch department that coordinates and oversees transportation functions in the United States.
FCL - Abbreviation for "Full Container Load."
Free Carrier (FCA) - An Incoterm of sale meaning the seller has delivered when the cargo is given to the carrier nominated by the buyer at the named place.
Freight Forwarder - A person whose business is to act as an agent on behalf of the shipper. A freight forwarder frequently makes the booking reservation. In the United States, freight forwarders are now licensed by the FMC as "Ocean Intermediaries.
Free on Board (FOB -- U.S. Domestic Use) - Shipped under a rate that includes costs of delivery to and the loading onto a carrier at a specifed point.
INCOTERMS - An abbreviation for the International Chamber of Commerce Terms of Sale. These terms were last amended, effective July 1, 1990.
Lien - A legal claim upon goods for the satisfaction of some debt or duty.
LCL - Abbreviation for "Less than Container Load." The quantity of freight which is less than that required for the application of a container load rate. Loose Freight.
Less Than Truckload - Also known as LTL or LCL.
LTL trucking - Less-then-truckload (LTL) is where you have freight -i.e. pallets and/or crates that need to be trucked across the mainland. This service is used to have freight transported across the mainland.
Ocean Bill of Lading (Ocean B/L) - A contract for transportation between a shipper and a carrier. It also evidences receipt of the cargo by the carrier. A bill of lading shows ownership of the cargo and, if made negotiable, can be bought, sold or traded while the goods are in--transit.
Pallet - A platform with or without sides, on which a number of packages or pieces may be loaded to facilitate handling by a lift truck.
Reefer - a refrigerated container.
Ship Load - The amount of cargo a ship carries or is able to carry
Trailer - The truck unit into which freight is loaded as in tractor trailer combination.
With over 30 years experience in the shipping industry, Pack and Ship Hawaii can help ship a variety of goods from cars, motorcycles and household goods from any origin to any destination. Our DOT # is 2392707 and MC # is 820808.
Contact us today for more information. Click here to learn more about our services and how we can help.
<!#43END>
<!******* 2 TAB NAVIGATION START******>
Back to the top
ref no:29598
<!PATH>
Featured Product/Service
<!PDF LINK>
<!998Template_start>
<!998Template_end>
---
Please send questions about this website to